White sneakers can wear , because they are cool and because white goes with all colors

In addition, the sneakers are the most comfortable footwear and look just as good when we carry them briefly, on an unimportant way to the store or we went out to concerts or evening out.
If you do not work in the judiciary, bank or company with serious dressing rules Sneakers can also be shoes for going to work.
Sneakers go to shorts, long pants, minnie, skirts to knees as well as maxi dresses.
In recent years, sneakers are increasingly frequent on trendseters (and trendseters) so are the themes of many fashion blogs (and ours!), and more and more in the fashion pistes.
White sneakers have become incredibly popular in the last three years.
If you do not have the idea to carry them, do not worry, we've prepared them for inspiration.
For Women: 6 Ideas to Boot White Sneakers
#1 White sneakers and shorts
Simple and sexy: sneakers and short jeans.
In the summer months, you can not make mistakes if you pair white sneakers with short trouser suits, a simple monochrome short shirt and a small backpack that can fit everything you need to go for coffee with your friends
Especially if you are a cool girl who drives a bike to coffee.
#2 White sneakers and a small black dress
The famous little black dress conceived by Coco Chanel , always seemed to be a mandatory garment in every women's closet,
the piece of clothing that is being worn on an exhibition, a cocktail party or on a mature anniversary.

Along with the little black dress, there was always ceremonial footwear, some beautiful heels .
Well, today it is not a rule.
You can perfectly combine your little black dress with the steam of your most comfortable white sneakers and be equally seductive.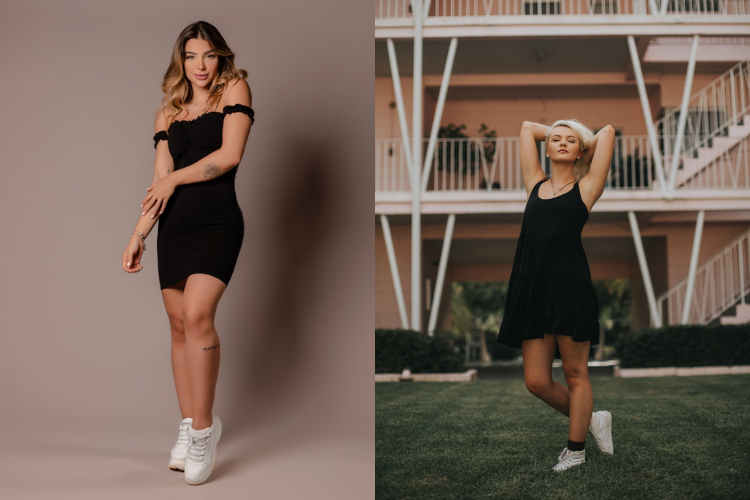 #3 White sneakers and trainers

When somebody says sneakers, everyone immediately thinks we're going to the gym or on the Running track. Sneakers are created for the sport, although they are more they walkin them today and they are always looking good with a pair of trousers and tights.Aside from being comfortable in the combination of a sweatshirt, sneakers, you will never make a mistake.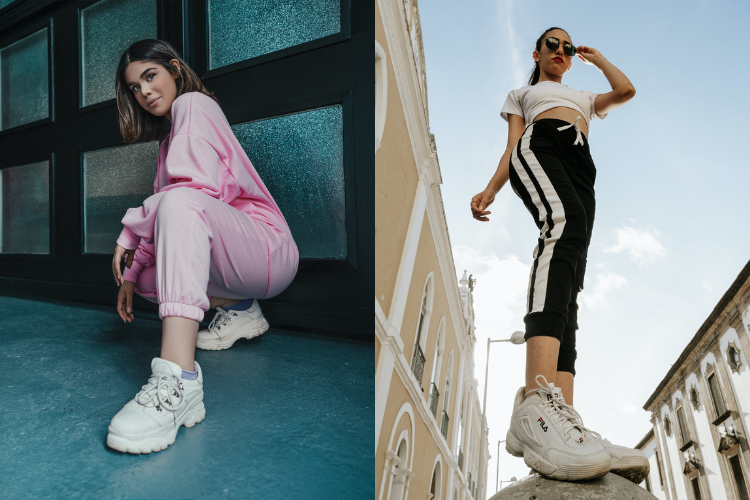 #4 White sneakers and "go to work" outfit
It's great when you can get trained at work as you like!And in sneakers. For a office slook at the sneakers we recommend: jacket + light summer blouse + comfortable pants.
#5 White sneakers and back in the nineties
The nineties has come back. Issued jeans, a crop top shirt and a white sneaker.
It's about a simple, youthful look with three garments. At this styling, lightly connect the waist shirt around your waist and like a whipped cream on a cake, wear your white sneakers.
#6White Sneakers and Romanticists
Look for Eternal Romance:
if you go to the beach or go take a walk a pet ,Slip on a light summer dress with unobtrusive motifs and of course, do not forget about white sneakers :)
Did we give you enough ideas?
But with white tennis shoes you can not really make a mistake!
They are they carry literally to everything and everywhere.
Ignore grandmother ook when you dress up the dress and white sneakers and feel comfortable and fantastic!
For boys: 3 Ways to to wear White Sneakers
#1 White sneakers and bermuda
When hot, the winning combination is shorts and a short sleeve t-shirt and with light white sneakers
You will not go wrong even with white sneakers add long trousers that snugly easily screwed You will not even make mistakes with white sneakers and lightweight leggings.However, if you decide to wear a sleeveless long-sleeved shirt, be sure to wrap your sleeves.
#2 White sneakers and suit

White Sneakers and Suit? Why not.
With the help of simple white sneakers, it is easy to achieve an elegant look even with a suit.
Compare the white sneakers with what you usually carry at work .See that under a dark suit you still wear a shirt in lighter colors. It is not necessary to combine them on a suit, because your white sneakers go great with the jeans,a light summer shirt and a jacket.
In these combinations you will look charming and sophisticated at any time. If you yourself wondered if it would be stupid to your friend's wedding, white tennis shoes, it's clear that you can do it.
You can also wear white sneakers for your wedding.But ask the bride before, in every case!
#3 White sneakers
White sneakers always go with the most comfortable trainers and are the best choice for going to the gym.
White can never be bad:)