Spring is coming, and you're thinking it's time to start practicing.
But the only thing which is in your head when you're thinking about exercising it's how desperately you look when you do it. In a too big t-shirt and old tracksuit with peas of sweat on the forehead ...
But, considering how today's sportswear and footwear looks fantastic and you can choose from amongst many models, color and patterns, it seems to us how your excuse does not hold water.
So, you'd better start working out the exercise plan. And the design of his own sports styling, and forget about the excuses:)
Running, roller skating, biking or fast walking?
Whatever you decide, you will feel better, and look better.
Below we bring several ideas as well as in sportswear and footwear look very chic.
1. A sports combination for running
Running is one of the healthiest sports and has recently become very popular. If you're in love with this physical activity, you know how the most important part of yours are styling quality and comfortable sneakers.
Choose the ones that you can easily combine on your sports, but also a casual combination. How do you do that, has recently been revealed fashion blogger Ana Bacinger in your blog Little Fashion Paradise.
She combines it Adidas sneakers with Adidas leggings and T-Shirts. And she look great.
2. Chic combinations for the gym
Look at the sporty clothes wearing a famous model Rosie Huntington-Whiteley. Admit it looks glamorous and in tights sports shoes.sports shoes.
If you want to borrow her style look at ours Nike Tanjun sneakers and combine them on shorter black tights and a sports t-shirt.
If you add a neutral leather case to the combination, You are also ready to go to the coffee after the gym ;)
You will also look great in the gym with some bold prints and single-colored sneakers. Give yourself a vent and select tights with a crazy pattern. Sneakers and tops should be of the same color.
White Nike Wmns Air Max Motion sneakers it will look great in combination with a white t-shirt or white patchwork and brindle
leggings.
3. Comfortable combination for biking or walking
If you want to lookchic in sports edition, you can borrow and style Jessice Albe.
It's very simple and very trendy, and very easy you can get it clothes that she wears. Black tracksuit wider model, cap, shirt with interesting print and black Nike sneakers and you are ready to ride a bicycle.
Or going to lunch with a friend :)
In variant number two to combine black tights and a long shirt-ttunic with black sporty Adidas sneakers. Sneakers Adidas Neo City Racer you will be perfect fit into this sporty and leisurely combination.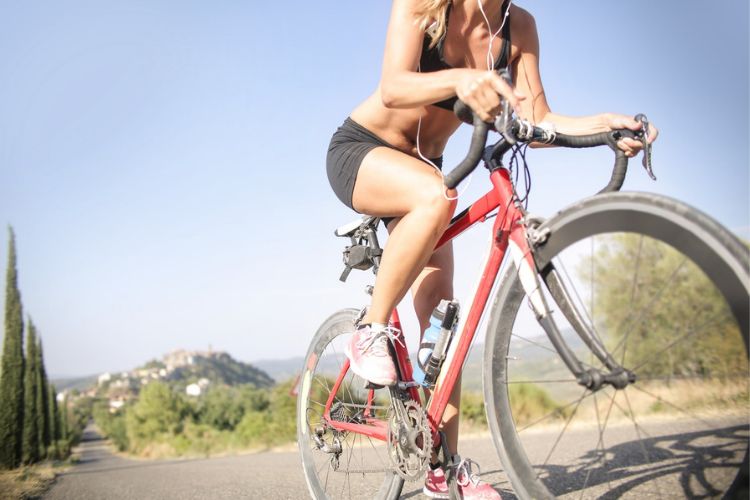 With leggingsand sneakers there is also a small black leather bag in which you will put all the things you need and are ready for one quick walk around the quarters ;)
4. Design sportswear
Wearing sportswear is not only reserved for sports activities.
It has become lifestyle.That's why many designers have thrown themselves into creating sportswear where you will look fabulous in the gym, but also in the afternoon with friends.
Stella McCartney so for Adidas designed a phenomenal line of sportswear, and this year we saw other designers on the runway how do they flirt with sport style.
Of course, few can afford to buy designer sportswear for the gym.
The good news is that they are so familiar high street brands like H&M-a, Manga, Zare start the lines of sportswear which looks fantastic, and it is also good.
We hope we are you convince you that in sportswear and clothing you can look fantastic i give you an inspiration for your sports styling.
For more inspiration, see the offer of our sneakers in web shopu or on our sales points and be fit this spring;)