There is a secret relationship, a secret relationship for all ..
WOMEN AND HEELS!
The mysterious love between women and shoes is the eternal mystery,a cabinetof high heels, the dream of a every smart woman
We are simply fascinated by them!
Remember Pepeljuge who married for a glass shoe, and Dorothy would never return to Kanzas if there were no magic red shoes.
Want an example of reality? Imelda Marcos, the wife of the former Philippine president had 12,000 pairs of shoes! 12,000 pairs !!!
No woman can not have at least one pair of heels because they only guarantee that we will always look sexy and seductive.We can also wear them on a tights, and we will nevertheless look trendy and awesome.
"I do not know who invented a high heels, but women owe it a lot! "- Marilyn Monroe
Did you know that the tall heel was initially reserved for those tall stalwarts i did not seem to be erotic?In fact it was considered the symbol of manhood!
Believe it or not, only the men could wear the heels
The higher they were, the more important they were.And how did they change over of manhood the symbol of female sex?You will find out very quickly because since we are closer to the Women's Day, we decided to dedicate this blog to the greatest love of every woman-heels
We'll find out about their history, because little is known about how they came about.
The story is really interesting and begins in the antique period

Heels in old Greece and Rome
The very thought of wearing tall heels or platforms it was already in old Greece where high heels were worn by actors, more precisely men.
The heels looked like flat shoes with a wooden or cork heels height up to 10 cm, and they were called "kothorni" ili "buskins".
They actually symbolized the importance of actors. What the actor played a more important role was wearing more heels.
Neither the Romans were immune to the heels.In old Rome where prostitution was legal, high heels are with the gentleman tall path
they also wore and pimps. As soon as you saw the high heels, you knew you could ask them for a night for a lady (or you have sometimes made mistakes and you have been addressed by the high society

).
Chopines: pearls of the 15th century
In the 15th century in Venice they developed increased shoes they could wear and ladies.
But these were not the heels they would wear for the evening out. Te nevjerojatno visoke pete nazivale su se Chopines and they were raised by 60 centimeters! For as much as 60 centimeters! And today, a few people dare to walk in those of 10 cm!
But behind those dazzling 60 centimeters, there is a good reason: They guarded real, delicate shoes from muddy streets.
Since these "real shoes" were made of animal skins or satin It is not surprising that the gentlemen wanted to walk as far as possible
(or more) of dirt .Walking in them was demanding, so gentlemen had to use it hunting stick or servants to help them walk.
First heels for Women: 1590s
Some say the heels were developed from Chopines shoes, and some say that they came from the Middle East
where the men wore them for riding. Anyway , the first renowned bearer was Queen Elizabeth I.
In the painting from 1595. It can be seen that he wears a pair of high-heeled leather shoes.
Interestingly, these are the first shoes who had an early form of the shoelace.Instead shoelace , they had lace or decorative ribbons

They lived differences in the heels: 1660s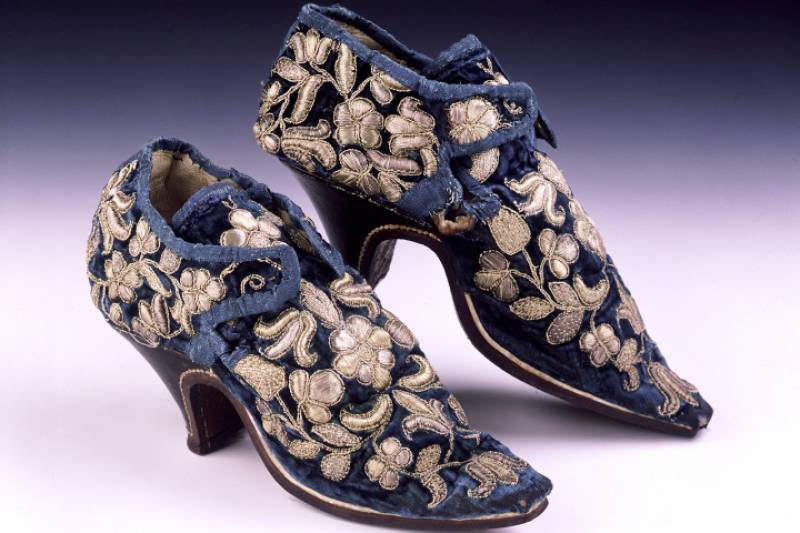 Men's and women's shoes were about the same until the 1660s. After that, men's shoes were more practicalwhile women's shoes were decorated with silk, ribbons and velvet.
Red heel and sole : 1670s
French King Louis XIV was the initiator of various fashion trends including well-known red heel and soles.
From their 20s to 63th, Luigi XIV wore red-leather heels with the addition of white fur.

Pompadour Fifth: 1750s
The French heel Pompadour was named after Madame de Pompadour (with real name and surname Jeanne Antoinette Poisson).
She was the lover of King Louis XV , who married her and turned into a French Duchess.
Except for King Louis XV. got the whole castle, she also got her heels. Although it was really hard to walk in the narrow,
curved heels, for walking and showing in the castle were more than perfect.

Let's go downstairs:flat soles are a total hit- 1840s
High heels have lost popularity after the French Revolution. The notion of a nobleman was quite unpopular and nobody wanted to look like them.
Especially the New World, ie America.The Puritans openly banned high heels because they thought they were too seductive,
and sometimes they seemed to be a symbol of witchcraft.
For this reason, they wore the straighter shoes,and the popular shoe style was the forerunner of today's ballerinas. These were flat slippers withwith dull on their fingers and a binding ribbon.
Back the heels: 1850s
After this is short period ballet shoes done the heels have again taken up the top of popularity.These leather skinned shoes and brass heels (legura bakra i cinka) they were considered a classic ladies' shoe.
The first heels : 1950s
First Fifth Stilleto invented Roger Vivier in 1954 for fashion collection Christian Dior.
Fifth was named after the Italian word for a thin dagger and immediately became a sex symbol in the Hollywood worldi and pin up photos.
Because of this Stilleto's heels Marylin Monroe has become a sexual symbol.
There is a rumor that Marylin Monroe had a shelf for 0.5 cm below to have a sexier gait.
Modern heel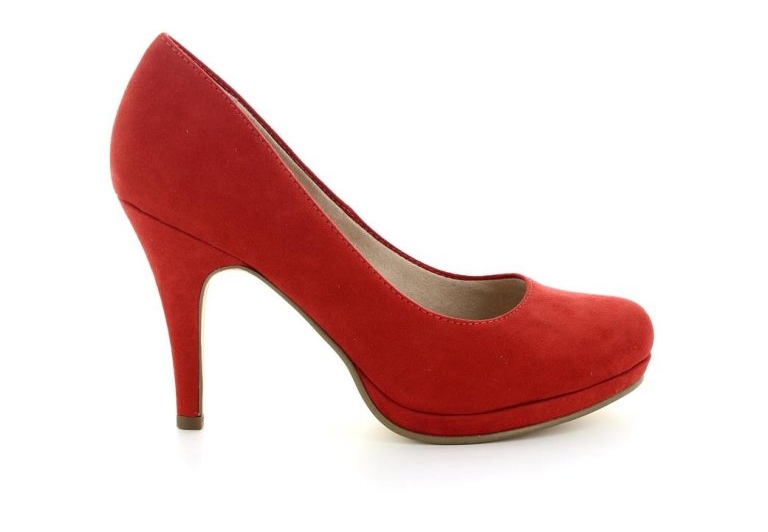 High heel made a real sensation in 2015, when the Cannes Film Festival allegedly forbade women from appearing on a red carpet on flat heels.Namely, producer Valeria Richter they did not let go at the premiere because he was wearing flat shoes.But a real mania high heels she started with Carrie Bradshaw - lover of high heels.
Today it is almost impossible to imagine a world without a heel. Someone wears them every day, someone just on weekends,
and some ladies only on rare occasions.
Visit our store Visit our store. The offer is varied, so everyone will find something for themselves.
Treat yourself to the Women's Day!